Clarity for your writing:
A short list of my most recommended writing resources
These writing resources are the most potent, time-tested resources I recommend to my editing and coaching clients.
This list is not encyclopedic. I've weeded out books and resources that rehash the same tired platitudes you can read anywhere on the internet. This is a curated list of today's essentials—so now you can spend less time reading and more time writing.
The Fundamentals: Where to start
Story Structure 101: How to build a novel There's no need to plot your book within a straightjacket of specific "beats" or master complex structures demanding ten, fifteen, even twenty or more structural points. Your story needs four acts—a simple four quarters. Start with that, then explore the details. Finally, check your work to see if the story hangs together.
The very best craft books on writing fiction One of the ways I like to help writers is by recommending resources that provide actionable strategies (as opposed to the sort of inspirational and motivational cheerleading that leaves you feeling good about writing but still at a loss about how to do it). These books would make exceptional additions to your personal writer's reference shelf—they're what I recommend to my clients.
If you're struggling with the sense that your writing somehow doesn't sound like a "real" novel, start with 5 Editors Tackle the 12 Fatal Flaws of Fiction Writing by C.S. Lakin—lots of examples to follow.
Fiction Writing 201 Novelist Chuck Palahniuk has the Midas touch when it comes to making sense of the art of actually getting the ideas and words down on the page. These 36 writing essays will lift your writing beyond the basics.
Regular Reading: Writing websites worth devouring
Anne R. Allen's Blog I love the way Anne's blog throws open the door to publishing newcomers, welcoming them in with insights on not only writing fiction but revision, the editorial process, traditional publishing, self-publishing, hybrid publishing, industry trends, and more.
The Editor's Blog I'm lucky enough to count Beth Hill as both a colleague and friend. You can make friends with her fiction bible The Magic of Fiction and her blog of brilliant writing advice.
Fiction University If you need a short, simple explanation of a technique or issue related to writing fiction, this should be your first stop.
Go Into the Story Screenwriting is a close cousin to fiction writing, and when screenwriters talk shop, they go deep. Caution: This site is like drinking from a fire hose. You have been warned.
Helping Writers Become Authors When my clients need additional insights and study on story structure, scenes, and character arcs, I send them here, and I frequently prescribe K.M. Weiland's book/workbook combos to guide writers through their books' creative development.
Jami Gold Jami's writing guidance is contemporary and thorough, moving beyond what to do to also outline why and how—all in a friendly, accessible tone.
National Centre for Writing This gold mine of tips from the National Centre for Writing in the UK includes Early Career Writers' Resource Packs, free online writing courses, and articles on publishing, writing fundamentals, world building, productivity, writing for games, scriptwriting, business matters, the writing life, and writing for children.
This Itch of Writing Thoughtful advice that's straightforward enough for new writers but rich enough to benefit experienced authors, too.
Writers Helping Writers Home of reliable writing advice and the brilliant The Emotion Thesaurus line of resources for writers.
Articles here on my website:
Streamline Your System: Writing tools & resources
Aeon Timeline Visualize connections between characters, settings, and plot points with different views and filters.
BetaReader.io Reader and feedback management for authors and publishers.
Called to Write A critique-free writers' community that gives you the support and accountability you need to make the work of writing happen, including daily writing sprints, weekly coaching and events, monthly discussion themes and goal setting, and more.
Character development tools
Draftmode's Raindrop.io bookmarks Fifteen folders of resources: apps, books, editing, literary magazines, newsletters, planning, podcasts, productivity, promoting, publishers, publishing, reading, research, self-publishing, and writing.
Free resources to power up your writing A writer's secret weapon: a smart collection of tools, software, databases, and more.
Grammar and mechanics:
Grammar Underground You can look up quite a number of common issues on June Casagrande's website. Her book The Best Punctuation Book, Period makes a great addition to your author's bookshelf.
Grammar Lion Brush up with these grammar refresher courses (affiliate links).
One Stop for Writers A virtual library of craft references and tools for authors, from the authors of The Emotion Thesaurus series.
ProWritingAid Help with grammar, style, and writing revisions—and yes, it beats the pants off Grammarly.
Plottr Inexpensive software to help you structure and outline your book, from plotting all the way down to scene design.
World Anvil Even contemporary fiction settings are a world of their own. World Anvil helps you research, develop, link, and cross-reference your story world.
Listen Up: Podcasts & video for writers
Ground yourself with bestselling author and instructor Brandon Sanderson's university-level creative writing lecture series.
The Shit No One Tells You About Writing Each episode of this podcast is a miniature master class in writing for traditional publication. Even if you don't write in the same genre as these agents represent, you'll see how the laser focus that goes into writing better query letters will also make you a better writer.
Try these lists of podcasts for writers:
Stay Current: Magazines for writers
Best Craft of Writing Books for Writers
For a breakdown of my favorite craft books by category (reference, revision, storytelling, narrative technique, and so on), see this pinned tweet:
I get asked a lot which reference books need to be on a writer's reference shelf. Here are my recommendations—the short list
🧵

— Lisa Poisso, Story Coach/Editor (@LisaPoisso) November 23, 2022
See the entire list at Fiction Writer's Essentials at Bookshop, where you can buy directly and support independent bookstores at the same time.
Looking for insights on getting published?
---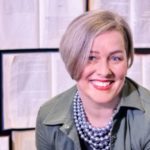 Want more advice like this?  Sign up for Baker's Dozen, 13 things for your writing, fresh out of the editorial oven every month. 
If you're looking for an editor to accelerate your journey from new writer to emerging author, that editor could be me. Let's work together via short-term coaching for story development, long-term coaching to hone your writing, or story or line editing (my editing specialties). Contact me now—Let's work together.
---
This page contains affiliate links supporting indie bookstores and/or giving me a small commission. Thanks for supporting book people.