Nothing makes an editor sadder than slogging through a manuscript that isn't ready for editing yet. Let's not embark upon a journey your manuscript isn't ready to take. Really.
As exciting as it feels to move one step closer to publication, typing "The End" is only the close of the very first step. The majority of the work of preparing a book for publication happens after the book is written.
Revise, revise, revise
Effective revision begins not with commas and spellchecking but with the story itself. If you're not sure exactly what makes a story a good story, investigate ways to develop your story sensibilities. Step away from your story to give yourself the perspective of a little time and distance. This is a perfect time to go digging for what makes other stories tick.
Read more: Why story structure won't squelch your creativity
When you've written all there is to write, it's time to put the manuscript away to rest before revisions. I find two months is a useful benchmark. That seems long enough to make the pages seem completely fresh when you come back yet doesn't risk that you'll lose all interest and momentum in the meantime.
When it's time to come back to the drafting table to rework your manuscript, how many drafts is enough? The answer: as many as it takes to develop and polish all the elements that support your story. Most successful authors I work with generate a minimum of three to four drafts before they consider their manuscripts fit for outside eyes.
The revision plan I recommend includes something like six revision drafts. The number's not important; what counts is that you peel the onion one layer at a time.
At this point, you need a plan that helps you methodically spot and repair weak spots in the story and the writing. Arm yourself with any of the strategies from my article on revision, below. I also like Chuck Wendig's take on how to edit the unmerciful suck out of your story (beware, salty language ahead).
Read more: How to revise the early drafts of your novel
Read more: The secret to nailing your final draft
Get outside feedback
Done with rewriting and revisions? Great—but you're not ready for editing yet.
Your editor should never be the first person to see your manuscript. Editing is merely the part the iceberg that peeks out above the waterline. Outside feedback is your lifeline that prevents you from paying a professional to edit a story with obvious holes in it.
Read more: Why critique is so important before editing
Start out with a select few alpha readers: your spouse, critique partner, or someone else you can rely on to read the whole thing and offer constructive high-level feedback. You only need one to three alpha readers. Use their feedback to make your first revisions.
Then it's time to broaden your circle of test readers. A critique group or critique partner gives you peer-level feedback from other writers. Beta readers give you the kind of reaction and feedback you'll get from actual readers of the genre you're writing in. Together, these groups can spot chinks in a story that may have assumed was ironclad. Use their feedback to guide your story-level revisions.
Read more: Why you need a critique group or partner and how to find one
Read more: The quick and easy guide to using beta readers
No matter how you choose to obtain feedback, avoid relying on friends and family members. People who know you will be tempted to tell you what they think you want to hear. Look for neutral parties such as friends of friends or readers you've met online—people who read regularly in the genre and style of your book and will be interested in your manuscript in its own right.
Prepare for outside editing
Professional authors wouldn't dream of letting a manuscript out of their hands without making it as clean as they can get it. Don't skip the grunt work, and get ready for editing. Run spellcheck. Reread the whole manuscript out loud. Take responsibility for fixing obvious errors.
The cleaner you make your manuscript now, the faster and less expensive your edit will be. Editors are not proofreaders, and if you overwhelm your pages with sloppy errors, you'll pull your editor's focus away from the high-level issues you're paying them to help you find.
Once you can see the end of the revision process ahead, begin your search for an editor. Try to schedule an editor at least a couple of months in advance; most professional editors have established client lists and may be in demand from others as well. I offer a system of deposits and scheduling that guarantees you a time slot with the flexibility to shift things as the time gets closer.
Read more: The editing and revision process—an overview
---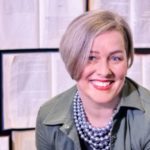 Want more advice like this? Sign up and get Baker's Dozen, 13 things for your writing, fresh out of the editorial oven every month. 
If you're looking for an editor and story coach to accelerate your journey from new writer to emerging author, that editor could be me. Let's work together.
---