What have you done to support your creative self lately? Oh, stop flopping about trying to think of something—it's just an article, not a test—and get busy sampling all these delicious productivity resources for writers. You'll be in the writing groove in no time.
I've been experimenting lately with tools that keep my daily goals right in my face. I fell in love with Momentum, a beautimous browser extension for Chrome that greets you by name with an eye-popping photograph, the time, your top goal of the day, and other customizable details. The feature that won me over was the option of replacing the time with a big, fat percentage figure representing current progress through the workday. Knowing my work day was nearly 61% complete proved to be highly motivational.
If you're trying to avoid the temptations of an open browser window (and oh, do I relate), you may appreciate the snarkiness of a "get writing" reminder right on your desktop. Try it out for yourself: Write Now motivational wallpaper
Many writers I know enjoy assembling playlists for each book or project. The sad truth is that listening to music while you write is actually multitasking, and multitasking drains your focus. Instead, try a white noise app to block distractions and cue your brain to write. It's all about building habits. Before long, as soon as you hear the white noise, you'll automagically fall into the writing groove. I started out with Noisli, but now I'm hooked on the variety and hints of music and melody available at myNoise.net.
It couldn't hurt—really, it couldn't—to review your New Year's resolutions. These resolutions for writers can give you a good kick in the behind any time of the year. Even today. Whenever you find this article.
But after all that effort, what happens to your writing when life happens to you? All's not lost—not if you learn how to cope with writer's guilt.
Write Better
Build your author's bookshelf While Strunk and White's The Elements of Style is now best considered writing advice tailored for another era, most of the editing and revision selections in TheBookDesigner.com's 19 Best Titles for Self-Editing would make worthy additions to your author's bookshelf.
How to stay in your head "This isn't a post about the evils of social media," writes fiction writing goddess Emma Darwin. "I enjoy it, I need it professionally, and there are huge personal benefits to being able to keep up with people, not least because the writer's life is so solitary. There are also stages when it's infinitely easier to write something if you have quick access to information. But it is a post about how writing happens, or doesn't."
Mind mapping Novels only work when everything moves together toward a unified whole. When you need help connecting the dots, try Exobrain, an online brainstorming and mind mapping tool. This beautiful web-based tool can help you visualize your concepts and find the links between themes, characters, plot points, and more.
Pixar story rules Leave it to the master storytellers at Pixar (in particular, former Pixar story artist Emma Coats) to articulate the story sensibilities you've been struggling to wade through. Point #17 particularly resonates with me, and all you Accelerator vets should find #4 familiar territory.
Write Smarter
10 reasons we don't stick to things It's easier to tell when you're blowing wind up your own skirt if you understand the most common reasons for ditching a plan.
The power of anti-goals If you're having trouble making it through your to-do list, maybe what you really need is a to-don't list.
How coffee shops and cafes can give you a creativity boost Why getting out of the house to write can boost your creativity and productivity, common challenges of working in public spaces, finding the right spot to get work done, gear for effective remote work, and more.
The case for non-fancy bullet journaling I know, I know, bullet journaling looks awesome, really it does—and I don't have time for all those precious little icons and charts, either. But a simpler approach might just be the writing tool you didn't know you needed.
Training tips for novelists Writing a book takes stamina. Ignore the maintenance needs of your physical tools at your creative peril.
Six ways to protect creativity It's not a sexy productivity tip, but it's truth: You have to protect your creativity if you expect to have the stamina to write and revise an entire novel. Before you can pour life onto the page, you must have your own life off the page.
That enough fuel to kickstart your engines yet? Onward!
---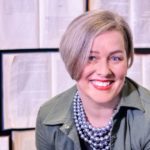 Understanding how stories work changes everything. I'll show you how to back up your creative instincts so your ideas hit home. It's time to accelerate your journey from aspiring writer to emerging author.
Ready to get serious about your book? Apply to work with me.
---