So how much money can you make writing novels, anyway? For traditionally published author income, short of a few blockbuster outliers, the total is probably neither as substantial nor as reliable as you might assume. On the flip side, the income potential of self-publishing has evolved dramatically in entirely different ways over the past handful of years.
Either way, it's a volatile situation. Don't bet the farm on blogs and articles written back in the twenty-teens. Here are some recent articles with enough hard data to give you a solid foundation.
How much do authors make per book? In traditional publishing, the totals and reliability aren't as substantial as you might assume.
What's a six-figure book deal really worth? The bottom line may be more of a bottom, period.
How much money do authors actually earn? A good overview of how novelists get paid and for what.
Related: Your editing budget: How much is your creativity worth?
Author Income: How to make a living from your writing A look at the income stream of authors making less than $60k a year from book sales, those making over $60k a year, and those making over $100k a year.
The Evolution of an Author: How to go from $0 to $100k from your writing This article features five income categories, from $0-$249 per month to over $10k per month, plus a look at what authors are doing differently at each level.
Related: 10 ways to save money on editing
The creator economy for authors Straight-up comparisons of income and books sold between traditional publishing and self-publishing, plus a look at where the many publishing platforms are headed.
How much do authors earn? Here's the answer no one likes Jane Friedman puts the above trends into perspective.
---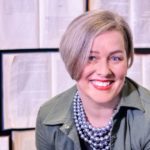 Understanding how stories work changes everything. I'll show you how to back up your creative instincts so your ideas hit home. It's time to accelerate your journey from aspiring writer to emerging author. 
Ready to get serious about your book? Apply to work with me.
---