Getting a manuscript ready for professional editing is notoriously painstaking work. It drags you into seemingly endless rounds of scrutiny: searching for plot holes, questioning the characters' motivations, adding zing to the dialogue, and squashing typos and grammatical errors. With so much ground to cover, a revision plan ensures you're not overlooking anything.
What's not so widely recognized about preparing for an edit is that revision is only half the task. The other part of preparation—the part I think is arguably even more important than the revisions—is a key I've shared in my post as a resident writing coach at Writers Helping Writers.
Here's what I look for when I'm helping clients decide if they're ready for professional editing:
---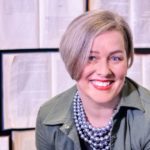 Understanding how stories work changes everything. I'll show you how to back up your creative instincts so your ideas hit home. It's time to accelerate your journey from aspiring writer to emerging author. 
Ready to get serious about your book? Apply to work with me.
---