Action and reaction—everything in a story depends on what the characters do about whatever the story pits against them.
Stiff, disconnected, or missing character reactions snap the chain of cause and effect that constitutes your story. When readers can no longer see how and why the characters are doing what they're doing, they lose the thread.
The three most common action–reaction misfires I see in manuscripts are:
1. Missing or insufficient reactions
2. Jumbled responses
3. Purposely obscured stimuli
My latest post as a resident writing coach at Writers Helping Writers explains what to do about these action-reaction misfires.
What happens when characters appear indifferent
Layering internal reactions with external reactions
Voluntary vs. involuntary reactions
Maintaining the physiological chain of responses
Mysterioso Syndrome—the refusal to show what the characters are clearly reacting to
Visit Writers Helping Writers to read—
---
Related: The secret to authentic character voice
Related: Revealing emotion means more than "playing the organ"
---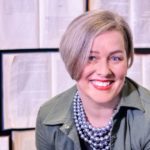 Want more advice like this? Take a bite of my popular newsletter, Baker's Dozen, 13 tasty tidbits for writers, fresh out of the editorial oven every month.
And if you're looking for an editor or story coach to accelerate your journey from new writer to emerging author, that editor could be me. Let's work together.
---